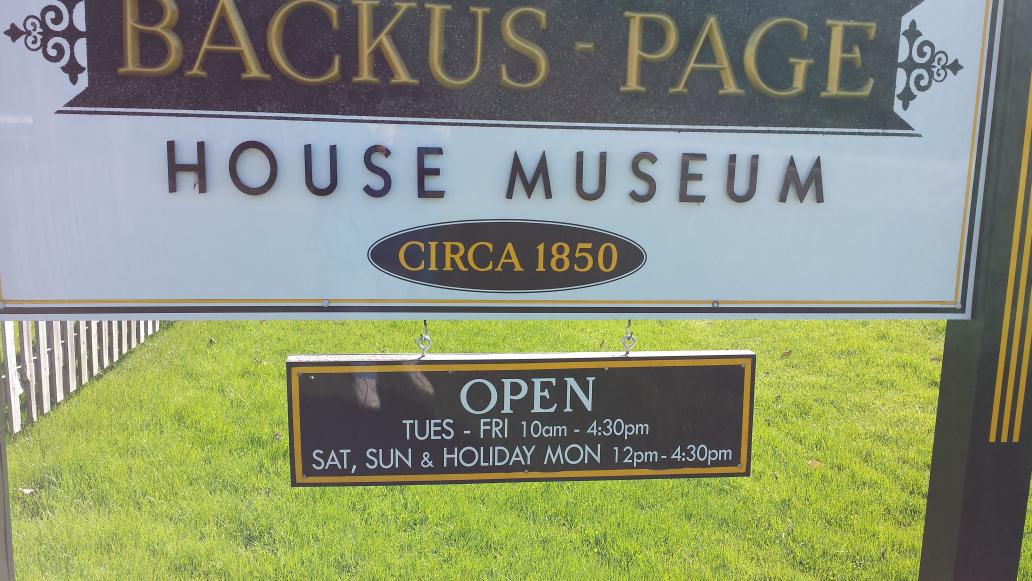 It's May 1st and that means Backus-Page House Museum is open and operating on regular hours (see photo above for days and times). If you've been here before you must come back because there have been changes, new additions and updates. Bring some friends with you as well.
Admission for Adults is $5.00 with Students/Children $2.00. For groups of 6 or more adults you can tour for a discounted rate of $3.00/person.
What's New?
Our new exhibit has been installed. Wander through "Beds, Baths, and Beyond" and find out about washing, bathing, sleeping, and more. Play the Name Game while you're there.
In honour of settler, Mary Storey, who gave this land to her grandson, Andrew Backus, we have turned one room into the Textile Arts Room where you can hand quilt or rug hook. Our collection of spinning wheels, yarn winders, and textile pieces are displayed, plus on exhibit is a winding sheet that reportedly Colonel Thomas Talbot was wrapped in before being readied for burial. There's quite a story with that piece.
On the Talbot theme, we have borrowed two panels about the Talbot Settlement from the Elgin County Museum for our visitors. There are lots of new items in the period room settings and most importantly.....the parlour now has curtains!!! Here's a sample of the pattern (the one in the centre).
I look forward to seeing you soon for a tour.
Angela Bobier, Cultural Manager